Dislocation and Other Theories, Poems by Erin Murphy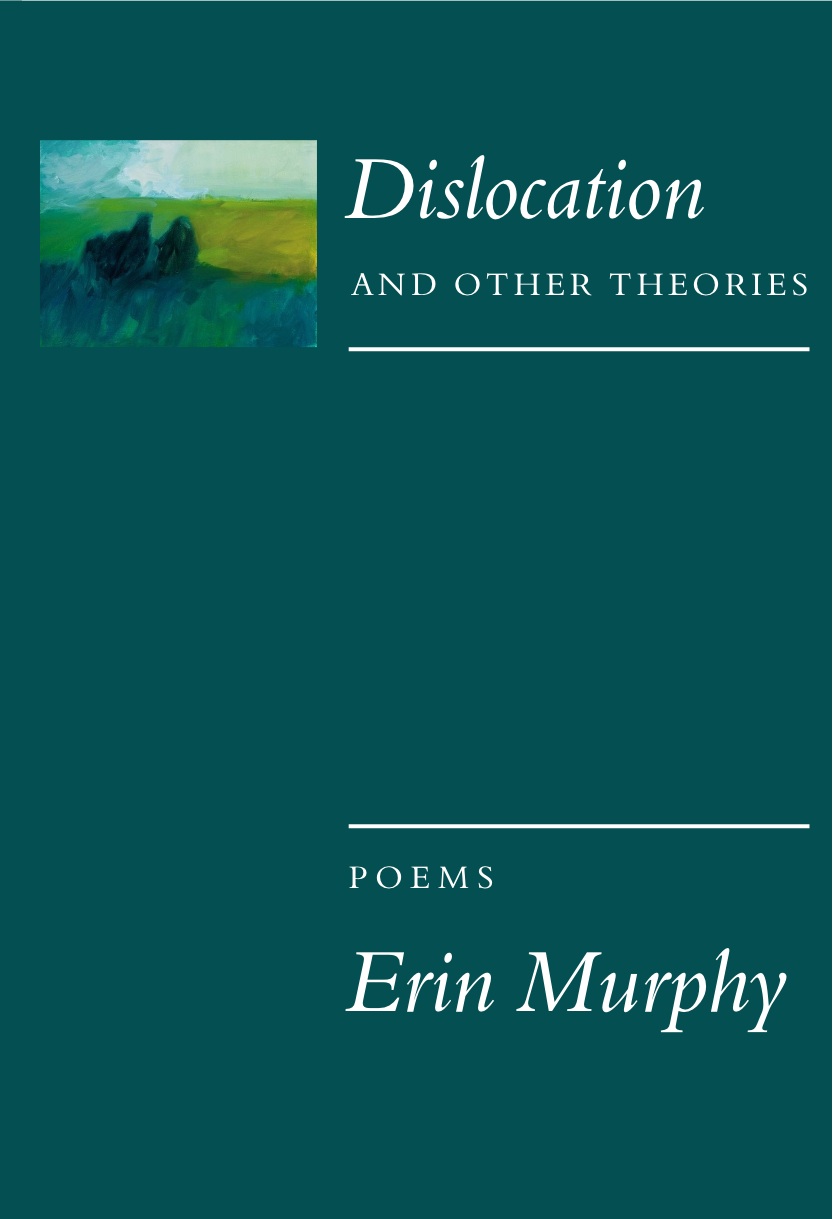 The jazzy female voices in Erin Murphy's Dislocation and Other Theories memorably portray women's experiences in the twenty-first century. In these dislocated times, Murphy's poems offer a sure map to deeper wisdom.
Winner, Paterson Prize for Literary Excellence
"Erin Murphy is a sly, funny, clear-eyed poet whose poems close with the satisfying ringing sound of deft ironies sliding into place. She has the courage of her idiosyncracies, a pitch-perfect ear, and the confidence to probe the more tender hypocrisies of our culture. It's just like her to tell us something we didn't know we knew. Well, now we know. This is a marvelous book."--Lee Upton
"A sassy domesticity informs these poems--let's call them Emily Post-modern--and a savvy intellect sifts each line so that the language becomes, in Emerson's phrase, 'doubly significant.' Underscored with humor and ravening self-consciousness, the poems' true subject is not only the burden of desire, how 'wanting always // leaves you, always / leaves you wanting,' but its brilliant and spiritually rousing counterpart: 'If only someone / would lift us up, polish us, see us. See us shine.' Erin Murphy has crafted here a volume both dazzling and transcendent in its deceptively homespun articulations."--Michael Waters
"Culturally savvy, mordantly ironic, bemused and poignant, the poems of Erin Murphy's Dislocation and Other Theories deliver their insights with 'back-story, anecdote, and verisimilitude' as clearly and concisely crafted as radio dispatches for a planet slightly off its axis. 'What else have you misread?' she asks herself when the nature worshipper on the tow bridge turns out to be merely littering. When the war hero rescuing his bride from a high-rise hotel fire loses his grip, Murphy interrogates the nuances of the Latinate prefix for the space between selves that makes communication possible...and also buries it altogether. Deflected expectations, sudden shifts in identity, and unbidden intimations both of mortality and of capacity for transformation keep the inhabitants of these poems perpetually in motion. In a world full of dislocations, Murphy implies, we are all mangoes out of season, but we recognize ourselves in the hope of 'dormant brilliance' awakening in these poems."--Carolyne Wright
Erin Murphy is the author of two previous poetry collections: Science of Desire, a finalist for the Paterson Poetry Prize, and Too Much of This World, winner of the Anthony Piccione Poetry Prize. Her awards include the Foley Poetry Award judged by Paul Mariani, the National Writers Union Poetry Award judged by Donald Hall, a Dorothy Sargent Rosenberg Poetry Award, and a Vira I. Heinz Endowment Fellowship at the Virginia Center for Creative Arts. She is Assistant Professor of English at the Pennsylvania State University, Altoona College (www.altoona.psu.edu), where she teaches English and creative writing.
ISBN 978-1933456935, 80 pages