Stage to Page, Poems by James B. Nicola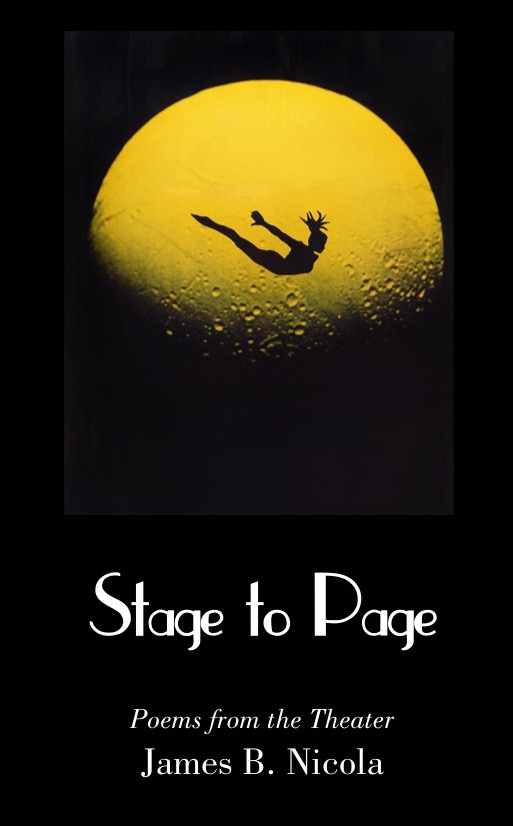 All the world's a page, and originates on the stage? That is the provacative question posed by James B. Nicola's Stage to Page.

"Bravo! The marvel of James B. Nicola's substantial collection is how his superb craftsmanship never once muffles the voice of his exuberant stage-struck heart. A warm-hearted, cold-eyed ode to the business known as show." -John Guare
"Stage to Page is an exhilarating tour of show business, informed with the poet's deep and lively involvement in theater. A master of meter and rhyme, James B. Nicola has the power boldly to experiment besides. All of us who care for staged comedy and drama, movies, music, and dance (and who doesn't?) will cherish this unique and fascinating collection." -X. J. Kennedy
"Stage to Page will be very moving to read whether you work in the theater or love the theater in any way. It does what narrative poetry should do: conducts a lovely sneak attack on the different kinds of people who have to do with the theater, and gently surprises with some startling insights into what it is we try to do, and how we go about doing it. This book is irreplaceable. There isn't anything remotely like it. It's beautiful." -Austin Pendleton
"James Nicola's Stage to Page updates Hamlet's advice to the players, holding (as it were) a mirror up to the art of theater, with humor and insight. His lyric poems sing of the actor's mysterious ability to convey reality through make-believe: 'You are not what you are, but what you're not; / you're what you can be, and the opposite.' They are also filled with fine practical tips: 'Speak boldly: Thrill-as if your life depended /on it (which it does if you're a pro)!' Nicola nods knowingly to the clown, the old actor, the supernumerary, and to the waiter waiting for a break. He takes us on tour and behind the scenes. This is a book for anyone who has waited in the dark, either backstage or out in the house, for the magic to begin, and Nicola's spells, like Prospero's, are powerfully transporting. This book is a delight!" -David Yezzi
"This collection is, like its author, a Shakespearean clown. It exists to make the profoundly complex, understandable (and hilarious). I learn so much from James B. Nicola, the director, because he fools me into thinking I'm only having fun. And James B. Nicola, the writer, got me again! That's what fools do. 'No clown believes in learning to behave.' Thanks for allowing me the pleasure. The book is great." -Rob Corddry
"Sprightly, graceful, often wise, these poems are both notes and instructions; they both study and inform. James B. Nicola is a light-spirited teacher with much to impart about the stage that is the world." -Rachel Hadas
"The first thing I thought after I finished Stage to Page was how much I love being a creature of the theater. There's so much joy in these poems-such respect and love for the theater and for theater-makers. But the second thing I thought was how cursed I am that I love theater. There's a lot of ache in these poems. James Nicola reminds us over and over that live theater is ephemeral: performances live on only in memory-and I think all stage actors live with a quiet terror that, after we strut and fret our hour upon the stage...no one will remember. I think it's something all human beings wonder. Stage to Page sure made me wonder. " -John Cariani
"James B. Nicola's dedication is 'To those who have taken the plunge or are about to,' diving into the dark watery realms of the theater where 'You are not what you are, but what you're not.' Here in this Neptunian world of illusion, large and small bright fish swim by us for two or three hours at a time, illuminating truth and comedy and tragedy, deceit and loyalty, love and fear (in stage productions). Nicola entices the goddess of our subconscious lives to 'emerge from the sea foam' and holds us spellbound about what goes on behind the scenes and in front of the curtain as he teaches us what it means to be both an actor and an audience." -Christina Zawadiwsky
"Readers will enjoy sharing James B. Nicola's passion for the performing arts as he consistently manages to capture the essence and excitement of the theatrical experience for writers, directors, performers and audience members in well-chosen and incisive language. Stage to Page is the kind of book you will want to relish a few pages at a time." -Philip Fisher
"An incredibly insightful, truthful and entertaining series of poems that feels new and familiar at the same time. A poem a day keeps the mind in play." -Larry Pine
Sample Poems by James B. Nicola
James B. Nicola's previous collection, Manhattan Plaza, was published by Word Poetry. He has been widely published in periodicals including The Atlanta Review, Tar River, Texas Review, Lyric, Nimrod, and Blue Unicorn stateside, and overseas in journals as exotic as The Istanbul Review and Poetry Salzburg. He also won the Dana Literary Award, a People's Choice award (from Storyteller) and a Willow Review award; was nom­inated twice for a Pushcart Prize and once for a Rhysling Award; and was featured poet at New Formalist. A Yale grad and stage director by profession, his nonfiction book Playing the Audience won a Choice award. Also a composer, lyricist, and playwright, his children's musical Chimes: A Christ­mas Vaude­ville premiered in Fairbanks, Alaska, where Santa Claus was rumored to be in attendance on opening night.
ISBN: 978-1625491879, 128 pages, $20