Reminder, Poems by Irene Willis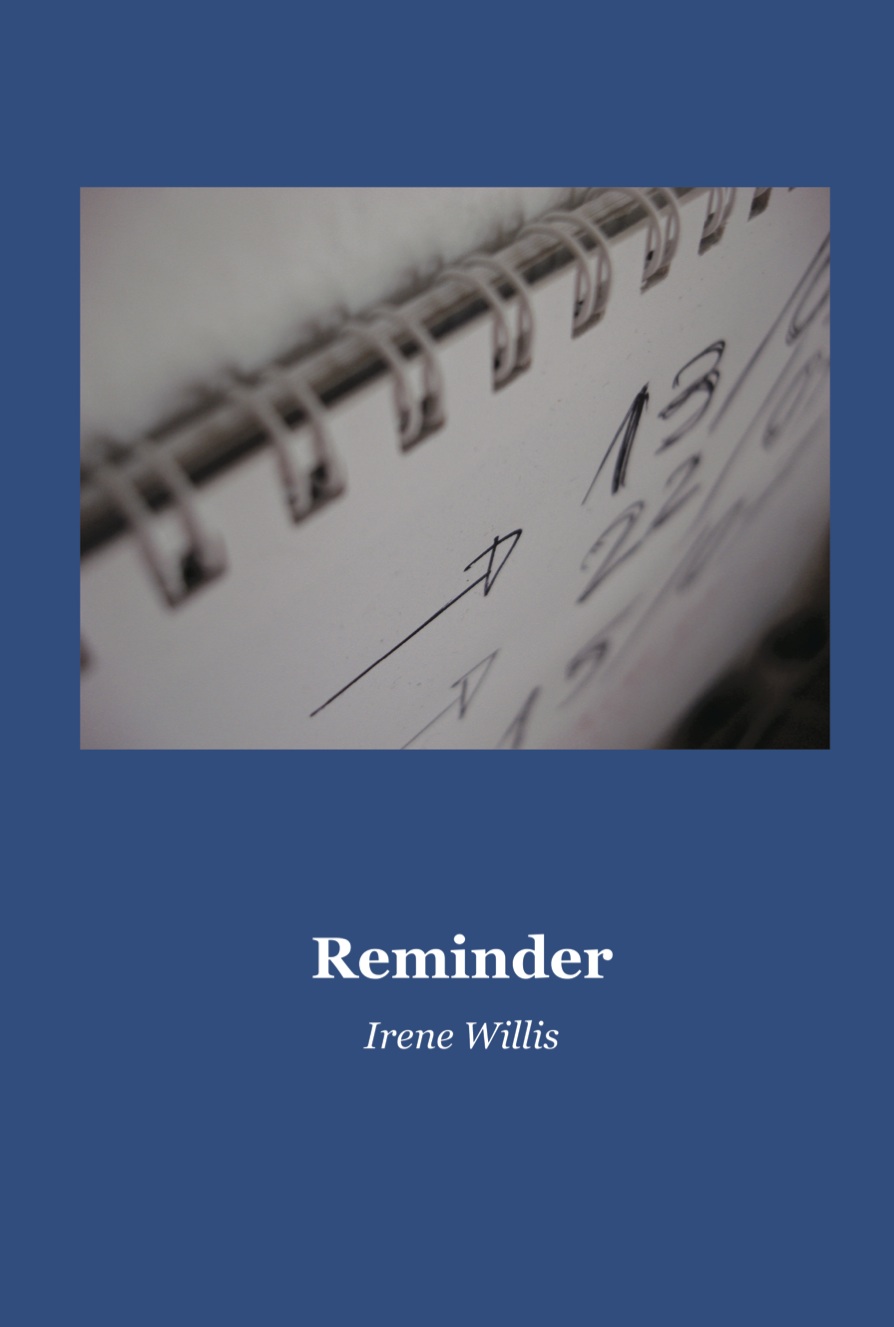 On a trip with her daughter in an attempt to untangle family mysteries, a woman finds herself revisiting, with growing understanding and even humor, the emotional landscape of her life – a life impacted by her father's alcoholism but ultimately warmed by the pleasures of a long second marriage, her awareness of the varied forms love can take, and what survives.
"Starting out in The Depression and moving along over decades that follow, these unerringly honest, spare, sharp-edged poems have an eye for just the right details. Sometimes comic, wry, her family mysteries also make a compelling story. Willis brings us a memoir and a social history whose intensity and pacing make this book hard to put down. I can only be grateful for this poet's work and look forward to more."— Colette Inez
"A rich life courses through these poems, one brought fully into focus through finely observed details mixed with the 'inchoate yearning' that prods the narrator toward reminiscence. Love inhabits this book that spans almost a century and measures 'the iambic of our days.' With simplicity and clarity and depth of feeling, Irene Willis creates a world which infuses this one and the next … each filled with reminders of who we were and are, and of 'all that remains.' What pleasure resides in these pages."--Michael Waters
"'To memorize with hands and lips the face of the beloved' in its many forms –that's the poet's urgent task in Reminder.' Willis knows that time can steal everything, even love and the memory of love. 'What is the look I have today in the camera's eye/wrapped in my long black coat and red scarf?/ Bewildered? Triumphant? Amazed?' Reminder is not a sentimental journey, but a real look at the anguish and beauty of aging, the poet praising the act of memory, even as she reveals the pain of remembering. Each poem in this book is a reminder that a life is full of many lives, each person a collection of many selves, and love and memory as fleeting as life itself, 'glove, ring, umbrellas/flying in the wind.'"—Jeff Friedman
Irene Willis is the author of three previous collections of poetry: They Tell Me You Danced, (University Press of Florida, 1995); At the Fortune Cafe (winner, Violet Reed Haas Prize, Snake Nation Press, 2005), and Those Flames (finalist for the Philip Levine Prize at California State, Fresno, and published by Bay Oak, 2009). She has also co-authored a number of textbooks and books for children and young adults. Thrice nominated for Pushcart Prizes, her poems have appeared in many journals and anthologies. A longtime educator who has 'retired' three times, she has taught at a number of secondary schools and colleges, most recently at Westfield State University and American International College in Massachusetts. Awards for her poetry include a Distinguished Artist fellowship from the New Jersey State Council on the Arts, a residency fellowship from the Millay Colony for the Arts, and grants from the Massachusetts Cultural Council, and the Berkshire/Taconic Foundation. She is Poetry Editor of the online publication, International Psychoanalysis.
ISBN: 978-1625490902, 90 pages