The 2002 Word Press Poetry Prize: Worldly Pleasures by Allison Joseph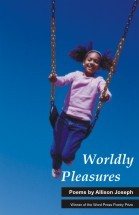 Worldly Pleasures is a book about pushing past tribulations to seek joy: in play, in friendship, in relationship. Ranging from a memorable series of character portraits to sensual love poems, Allison Joseph's fifth full-length collection finds, in its clear, smooth lines, a way to celebrate the world despite its difficulties. Worldly Pleasures further establishes Joseph as one of the leading poets of her young generation.
Sample poems by Allison Joseph
"Joseph presents the events of daily life both plainly and transcendently, as if to summon up the entire cultural setting in which they take place. . . .[her work] is an implied rebuke to any possible misreading of her poems as limited to a poetics of identity, or rooted in the deprivations of history rather than the plenty and richness of her experience, the will and ingenuity of her imagination and her strong poetic gift."--Women's Review of Books

Allison Joseph was born in London, England in 1967 to parents of Caribbean heritage. A graduate of Kenyon College and Indiana University, she currently teaches at Southern Illinois University in Carbondale, where she serves as editor and poetry editor for Crab Orchard Review and director of the Young Writers Workshop, a summer conference for high school writers. Her first book of poems, What Keeps Us Here, won the Ampersand Press Women Poets Series Prize and was published in 1992--subsequently going on to receive the John C. Zacharis First Book Prize from Ploughshares and Emerson College. Her awards include an Individual Artist's Fellowship in Poetry from the Illinois Arts Council, fellowships from the Bread Loaf and Sewanee Writers Conferences, and a Literary Award from the Illinois Arts Council. Two collections of her work were published in 1997: Soul Train, from Carnegie-Mellon University Press, and In Every Seam, from the University of Pittsburgh Press. Other recent awards include first place awards in poetry contests sponsored by So To Speak: A Feminist Journal of Language and Art, the Georgia State University Review, the Poetry Society of New Hampshire, the Oregon State Poetry Society, and the Rock River Times. Her essay "Those Seventies Shows: Reruns, Race and My Father" won first place in a contest sponsored by the Peralta Press, a journal based in California. Her fourth book, Imitation of Life, was published in 2003 (Carnegie-Mellon University Press).
ISBN: 1932339124, 108 pages, $16.00